The Euro Guide is a unique guide to the fast way round the most popular race tracks in Britain, Europe. Containing comprehensive notes and diagrams on  19 circuits, the Euro Guide is invaluable for amateurs and seasoned pros alike. With racing lines, braking points, apexes, gradients, visual markers, difficulty, importance and much more described for every single bend on every single track in the country, there's no better source of knowledge to help you find those extra seconds.
As well as corner-by-corner driving analysis for each circuit, this guide also contains a host of other useful material for anyone planning a visit to a track.
Assembled by an expert team under the direction of experienced racer Les Charneca, the Euro Guide takes a detailed, practical, interesting and often entertaining look at the challenges involved in nailing that perfect lap. It's an essential part of any driver's library.
Learn 'The Fast Way Round' European circuits with our Euro Guide
Protective Polypropylene binders
Section Dividers for ease of use
Corner by corner analysis of 16 European circuits and 3 UK circuits
Quick tips to achieve faster lap times
'How to get there' and 'Where to stay'
Corner indexing – ratings for difficulty and importance to lap time
MSA recognised product
Essential reading for drivers, spectators and racing enthusiasts alike
Over 500 pages of information
Easy to use loose leaf ring-binder format
ISBN  1-902204-20-4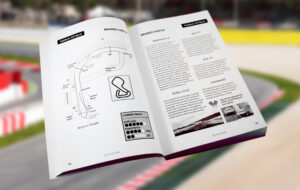 The Euro Guide Features:
Belgium: Spa-Francorchamps, Zolder
France: Croix-en Ternois, Dijon, Le Mans Bugatti, Magny Cours, Nogaro
Germany: Hockenheimring, Nurburgring, Nordschleife
Holland: Zandvoort
Ireland: Mondello Park
Italy: Monza
Spain: Valencia
South Africa: Killarney (we know it is not in Europe but it is a nice sunny circuit)